Design and technology of inflatable life jackets has become extremely advanced in recent years. Due to the wearability, cost efficient and space saving benefits of inflatable life jackets, they're rapidly growing in popularity. However, it is very important to be aware that they do require additional care, servicing, and maintenance, compared to the more traditional, non-inflatable life jackets.

All it takes is a loose CO2 tube, prolonged sun or salt exposure causing material wear, or a stray fish hook puncturing your life jacket, to prevent it from inflating. This could potentially leave you or a family member in a very compromising and dangerous situation during an emergency. Even strong swimmers can not survive in the water for long periods of time due to the rapid muscle fatigue that occurs while trying to stay afloat in cold water, or strong waves and currents.
LIFE JACKETS IN AUSTRALIA
Within Victoria, and other Australian states and territories, you're legally required to have your inflatable life jackets serviced in accordance with the manufacturer's specifications. In fact, the maximum penalty for failing to service your life jacket on or before the date specified by the manufacturer is 15 penalty units. There is also an on-the-spot fine of $194.00 or 1.25 penalty units.

Fortunately, most inflatable life jackets can be self serviced quite easily! This absolutely must be performed as per the manufacturer's instructions, and after each use.
We recommend visually inspecting each of your life jackets prior to entering the water, as it's a quick and easy process, and can diagnose many of the common problems that can potentially occur.

CHECKING YOUR LIFE JACKETS
Firstly, check the bladder for abrasion or wear. Check the reflective tape is not missing or peeling off, check that all stitching and webbing is secure, and that all clips, buckles, zips, and Velcro tabs are fully functioning and operational. Ensure that the CO2 cylinder is not damaged or corroded at all, and that the whistle, inflator, and oral tube are all functioning and operational.
Anything we have not outlined, specific to your life jacket that can be visually inspected should also be checked in accordance with the manufacturer's instructions.
Functional tests should be performed as per the manufacturer's instructions, and at a minimum, by the amount of time elapsed that they recommend. This may be pre season each year and after use, or more frequently depending on the make and model of your life jacket.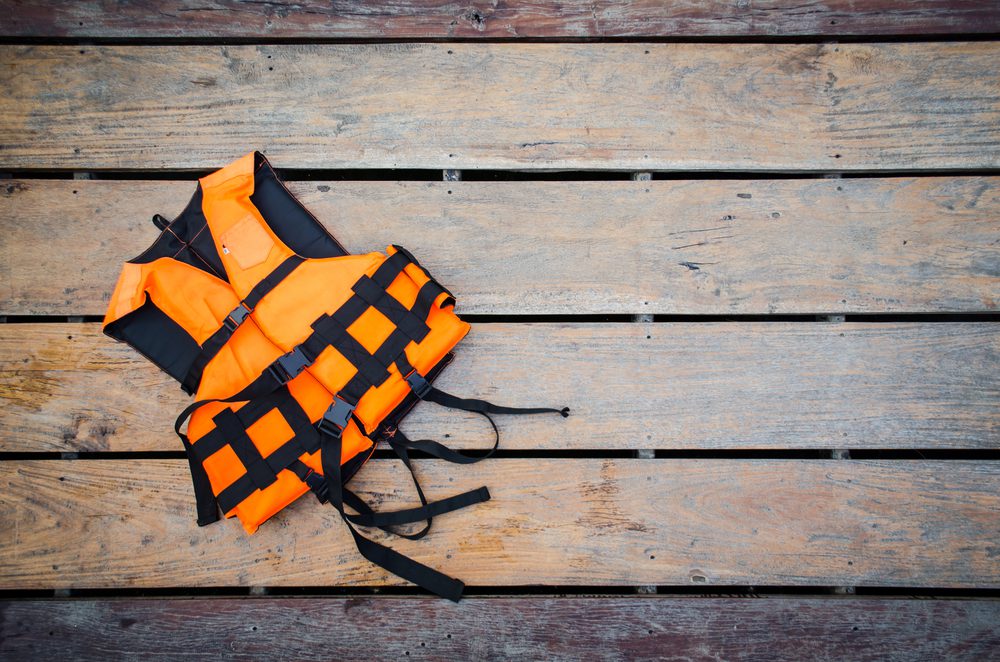 If any elements of your life jacket do not meet the visual or functional tests, do not attempt to repair, or replace parts yourself! Send the jacket away for repair to a reputable service centre as per manufacturer's recommendations, or dispose of the jacket and purchase a new one.
If your manufacturer does not recommend self servicing, or you do not feel comfortable performing a full service, send your life jacket away for professional servicing to ensure a thorough and detailed inspection.

Each time you conduct a full self inspection including both the functional and visual test, keep a record of the date of the inspection, marked with 'SI' for Self Inspection. Many popular life jackets include a grid on the jacket, which you can record inspections on with a permanent marker. We recommend having a separate paper, or digital copy as well for further proof of servicing.
If your manufacturer does not allow self servicing, then Self Inspections will not be legally recognised, and you will be in breach of safety requirement, leaving your friends and family at risk.

STORING INFLATABLE LIFE JACKETS
When storing your inflatable life jacket, insure that it is rinsed with fresh water if exposed to salt water, and dried prior to storing. Store and away from direct sunlight and chemical exposure.
Non-Inflatable Life Jackets
Non-Inflatable Life Jackets do not require the same level of care as inflatable life jackets do.
We recommend regularly visually inspecting your life jacket, and testing it's functionality in a safe environment. Always follow the manufacturer's instructions for to ensure you're meeting all safety requirements.

To prolong the life of life jacket, store in an easy to access location, out of direct sunlight and away from potential chemical exposure. Faded material can indicate UV damage, caused by prolonged sun exposure, and can compromise the integrity of the fabric. Exposure to certain chemicals or exhaust fumes can attack the flotation's foam.