"My boat has a wet transom. What does it mean?" This is a very common question we receive from our customers. In this blog we will explain what it means, how to assess & fix it and what are the problems you may face by having a rotten transom.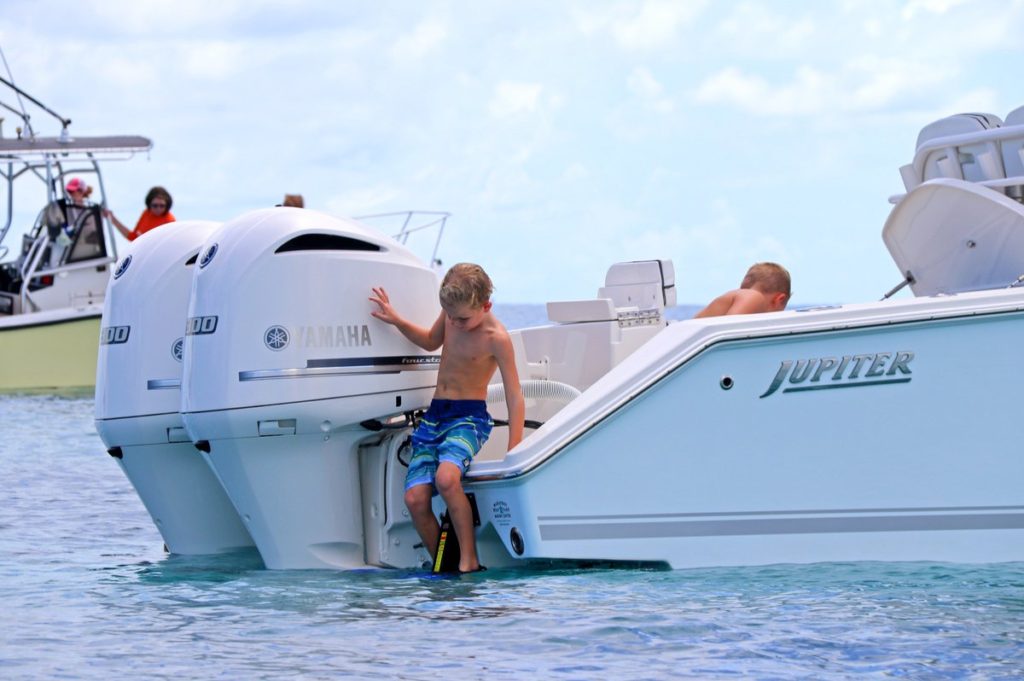 Firstly, we need to understand what is a transom and what it is made of. The transom is the rearmost vertical structure on the boat. Most modern fibreglass boats have a transom capable of holding one or two engines, outboard or inboard motors. Some performance boats can hold even more than that. Transom construction is typically and traditionally Glass-Reinforced Plastic (GRP) with Marine-Grade Plywood Core. 
Modern constructions are using high-density foam or structural foam on their transom designs. However, the most common built still has Marine Plywood in its core. Even though this plywood is marine graded, it doesn't mean it is totally waterproof. Therefore, its wood core can be affected by natural degradation if it gets too wet.
A wet transom has a moisture content higher than the natural timber moisture levels expected for that timber type. Minor increases in moisture levels are generally accepted in aged boat construction.  Higher levels of moisture are a precursor to rot or a residual to rot that has already occurred in the transom. An important fact to remember is that a wet transom does not always mean it is rotten. There is no way of determining easily at what level of degradation the transom rot has occurred when detected wet.
There may be external tell tales such as gelcoat cracking or "crazing" particularly in the corners of engine wells, or even visual movement when weight is applied to the engine. Eg: apply pressure downwards on the tilted engine leg and observe if the boat transom compresses around the engine bolts. Observe for cracking on the fibreglass around the engine bolts. Remove some screws or an engine bolt to observe if water spits out of the hull. Brown or brackish water is usually an indication of rot.
What are the problems of having a wet transom
Wet transoms may have rot in the reinforcing timber. A transom with rot loses its structural integrity and ability to handle the thrust and force of a mounted engine.  A transom is a critical part of hull integrity and construction, without this, the boat may deteriorate to a dangerous point and in extreme cases, the engine may fall off. A damaged transom can also allow water to ingress and possibly cause the boat to sink.
How can I check the condition of my transom
There are many simple ways to assess the condition of a transom. The best solution to ensure its integrity, it's always to get it professionally assessed. However, you can do some simple tests to check the condition of your transom.
Apply pressure downwards on the engine leg;

Observe if the transom compresses around the engine bolts;

Observe for cracking on the fibreglass around the engine bolts;

Washers are often observed as being compressed into the transom in areas where the timber has lost its strength.

Remove some screws or an engine bolt to observe if water spits out of the hull. Brown or Brack-ish water is usually an indication of rot.
Identify if the transom is wet. A boat repair specialist would use a moisture meter and/or an architectural hammer to assess how wet is the transom and where. (one common technique used by boat repairs specialists is the hammer tapping which it consists in closely hearing the echoed sound of the hammer tapping in the area being tested.)
After identifying where is wet, assess if the moisture is affecting the strength of the transom. (if the transom is shaky or sometimes bent in an angle is a way to assess strength.)
Cut or drill a small hole into the transom (core sample will give a true visual assessment of the internal condition of the transom) Tip*Remember to grind down the sharp corners to avoid chipping the gelcoat.
After the conclusion of the assessment sample. If the sample is looking good, the hole can be repaired and continue to use the boat (knowing the rot is imminent into the future). If the sample is rotten, the next best practice is to remove and replace the entire transom.  Many boat specialists mention that drying a wet transom does not fix the problem and it could make it worse. (Wood restrains water and salt through time which reduces resistance and strength of the material.) this resistance and strength do not come back after drying.
How much to fix a wet transom
Repairing a transom is a laborious exercise that can range from $3,000 to $10,000 depending on the vessel size construction and tradesmen used for the task. There are many techniques in placing a transom.
Who can help me if I find that my transom is wet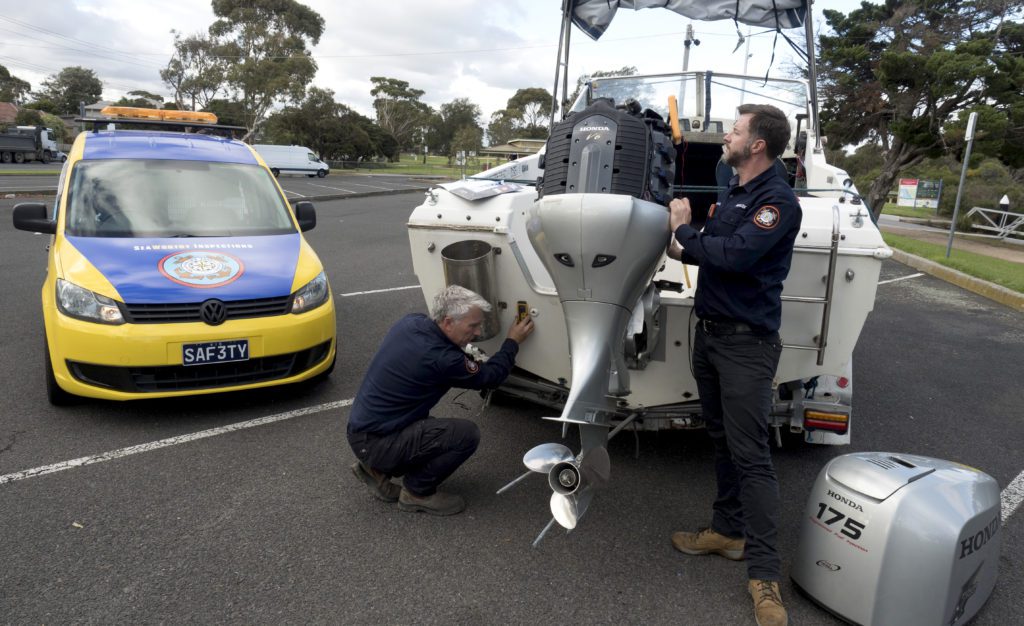 Ensure that any transom repairs are carried out by a qualified boat builder or shipwright that is capable of guaranteeing their finished job. Having unqualified tradesmen repairs could cost you more money down the track and affect insurance claims in a catastrophic failure.
Most high-level skilled boat builders and marine mechanics have special tools and experience that can give an assessment on your transom. Advice from your fellow boater, neighbour or mate can sometimes be a fatal and costly move.
How SeaWorthy can help me avoid a wet transom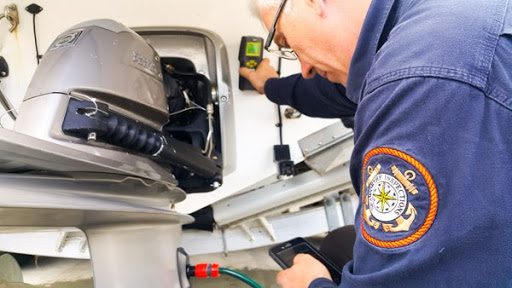 A wet transom is considered a common issue with boats, you can delay this problem by regularly maintaining your boat.
Seaworthy Inspections provide a comprehensive and detailed report of all aspects of your boat including the use of a special tool, the moisture meter, which can identify and determine the estimated percentage of moisture in the transom without destructive core sampling. Having one of our qualified boat inspectors assessing your hull will ensure peace of mind and better secure your safety on the water.
What 20%, 30%, 50% moisture means
The results of a Seaworthy Inspection will present transom report indicating the percentage of moisture in the timber underneath the fibreglass. This tool uses an ultrasonic signal that penetrates through the fibreglass and into the timber without any mark or damage on the gelcoat. It the inspector to assess if the moisture is higher than the standard moisture level of the timber. Typical moisture levels are:
5% to 15% – indicates a normal level of moisture (Bunnings timber will have this percentage while in shelve.
20% to 30% indicates a higher level of moisture encapsulated in the timber of the transom.
> 30% indicates an excessive level of moisture in the timber of the transom and an assessment by a qualified boat builder is recommended.
Notes:
Results may vary between 50% to 100% depending on the length of exposure, surrounding atmosphere and storage conditions, type of timber and lamination method.
The harder the timber the lesser moisture content.
We hope this guide could help you understand a bit more about what a transom is and what the problems of having a rotten transom are. Feel free to reach out if you still have questions about it. We would love to hear from you.
"Sell and Buy your Boat with Confidence"